I am so excited to participate in the cover reveal for this really interesting upcoming release, Not Like Everyone Else by Jennifer Leigh!
About Not Like Everyone Else:
Ryan can't seem to get her memories in order. When she breaks it off with her long-term boyfriend, Corey, she can't help but feel free. But mysterious events keep Ryan asking "just what happened?" After her family moved to Ryton, after Carter goes 

missing, after Jacob is in the hospital. All of these 

afters, but Ryan can't remember the befores. With Harper and Elliot by her side, Ryan can only hope that she does not forget… again. Will Ryan be able to recover her memory to figure out what happened when it all went dark?
About Jennifer Leigh: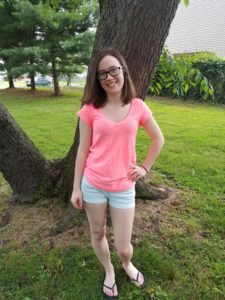 Jennifer Leigh is a self-published young adult author and blogger. She has participated in National Novel Writing Month where all of her thoughts come together and books are created. Her blog, Bound to Writing, focuses on young adult books and writing. She lives in New Jersey with her fiancé, two guinea pigs, and cat.
Website | Facebook | Twitter | Goodreads
---
And now the moment that you are all waiting for… the reveal!!! 
What do you think?!? I really like the cover; there is something so touching about the way the girl is looking down, unsure of herself.
Want more of Not Like Everyone Else?
Pre-order your Kindle copy now!
Or sign-up for the blog tour which runs from June 15-June 23.
---

Let's Connect!