Amazon Book Depository B&N Goodreads
This post uses affiliate links and I may receive a small commission for purchases made through my links at no additional cost to you. Click here for more info.
---
Hocus Pocus is one of my all-time favorite movies and I was equal parts excited to revisit the beloved characters with a continuation 25 years later and terrified that it wouldn't live up to the nostalgia I feel for the film. As such I went into this with very low expectations and overall found this to be an enjoyable read.
Full disclosure: I skipped the first 196 pages as I wasn't interested in reading a novelized account of the movie. Which was a good choice for me personally, 10/10 would recommend to others looking for a trip down nostalgia lane. This review solely focuses on the All New Sequel part of the book.
It's been 25 years since a virgin lit the Black Flame Candle, and Salem is still as bewitched with the tales of the Sanderson Sisters as ever. Well, everyone except for Poppy Dennison, the 17 year old daughter of Max and Allison. She grew up listening to her parents and Aunt Dani recount their experiences with the Sanderson Sisters and has spent her life hiding her family's secret from everyone, convinced that it is a tall tale. It is Halloween 2018, and things are about to get witchy again in Salem!
The story itself is well plotted and I found the storyline enjoyable to read. The Sanderson Sisters are back on Halloween night, and it is another race against time to save the world. Another trio of unlikely heroes to save the day. Beloved characters return from beyond to help provide guidance. Also there is a delightful spirit board that I absolutely need: HEY GHOUL, HEY; GHOUL, BYE. I have never felt so connected to a fictional inanimate object before, but here we are.
While I enjoyed the plot, I felt a disconnect between the character's ages and their actions that I found particularly distracting. This is categorized as a Young Adult novel but reads more like a middle grade book to me in terms of the word choices, sentence structure, and the actions of the characters. The characters themselves were well developed in terms of their backstories and I rooted for them, but unfortunately I just didn't believe their characters would act in the ways described but would totally buy it if they were Dani's age from the film. If I am being honest, the dialog between Poppy, Isabella, and Travis felt off and unrealistic – like an adult trying to write the cool lingo of today's youth, but no one really talks like that to this extent.
Jantha did a good job of writing the Sanderson Sisters true to the characters of the film, particularly with Winifred. Every time Winnie spoke, the lines played in Bette Middler's voice in my head! However, Sarah felt almost like a caricature of herself and most of her lines were some variation of "Amok, amok, amok!"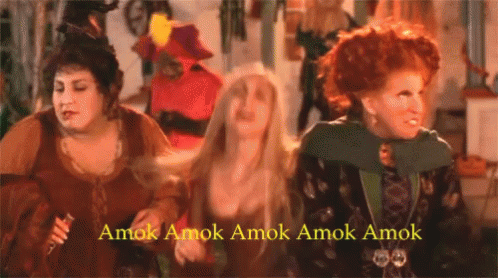 It was wonderful to see Binx and Emily again, but they kind of didn't seem like themselves? I don't know how to explain it. I did find the Olde English speech to be inconsistent, and honestly the Sisters kind of figured out how to use an iPhone faster than I think someone from the 1600s would.
Since this is a Disney publication it makes sense that they would want to appeal to a younger audience, especially ones that haven't seen the movie before (hence the novelized account). The movie does a much better job of appealing to both children and young adult audiences, and I feel like they made an odd marketing choice here. In my opinion a huge audience here are the adults that grew up watching this movie looking for nostalgia, and this book really doesn't appeal to us at all. 
Overall, I enjoyed my trip back to Salem and the Sanderson Sisters' return. The plot felt well developed and true to the hijinks they would get into for immortality. If you're an adult looking for a bit of nostalgia, keep in mind that this book really wasn't written for you and go in with low expectations. I also recommend just skipping to the sequel on page 198 so as to not taint your movie feels. The book is left open for something new in this world, but I don't know that it is something that I will follow personally.
🤝 Buddy read with the wonderful Becca over at beccaleighanne, and you can read her review here!
Rating
★★★☆☆
You can find information about my rating criteria here.
---

Let's Connect!
Twitter Bloglovin' Goodreads Pinterest