(Last Updated On: September 26, 2019)
Welcome voracious readers to the Ultimate Social Media Guide for Book Bloggers (that can also be tweaked for other niches because this information is useful for anyone)! If you are interested in learning how to take your blog's social media marketing to the next level, then buckle up and grab your bullet journals because this post is jam packed of information to help you raise awareness and increase traffic to your blog!
This guide is one month in the making and the culmination of countless trainings, conferences, and projects over five years of professional experience working in digital communications and fundraising. My experience has been in non-profit communications as it pertains to fundraising, and I currently run university-branded social media accounts on behalf of my department. In May 2018 I applied this knowledge to my own social media accounts and since then experienced rapid growth (just passed 500 WordPress followers, thank you so much!) and increased monthly traffic. And you can do it too, without slaving away for hours!
---
The guide is broken down into eight big categories and the information roughly can be applied to each social media platform that you use to market your blog. There is a lot of information here but I felt it was important to have everything in one place for easy reference. I hope that you find this guide informative and helpful, please let me know if you have any questions! Without further adieu, let's get into it!
Social media is ultimately about relationships; the biggest part about social communication is listening. People want to be interacted with and get to know the person behind the blog!
Social Media Trends
This section was all the way at the bottom of the list when I originally outlined this guide. It made sense: start with the macro focus and work your way into the nitty gritty of the trends overall and specific to each platform. But when I sat down to flesh out this post, I realized that if I begin with the importance of strategy and the specific tools there would be no context for the reader.
Even though social media has been around for over fifteen years (before MySpace we had Friendster… anyone remember that one?!), marketing on social media is still very new. It is still kind of like the Wild West where everyone is trying to stake a claim for themselves, and the social media companies are constantly changing the rules to keep everyone on their toes. This information is current as of October 2018.
We have shortening attention spans
With the influx of information on social media, our attention spans are growing shorter. In fact, scientists recently found that our attention spans are shorter than that of a goldfish and have largely attributed this to social media.
What does this mean for social media? Brevity is key. People are scrolling through waves of content and do not have time to read walls of text. In order to stand out and engage the follower, it is best to put the most important thing first (known in journalism as the lede) to hook them and get them to click to read more.
Posts by Type
Generally speaking, the hierarchy of post types in terms of algorithmic favoritism and viewer interaction are:
Video

A recent social media audit at my university found that 98% of video is watched

without the sound on

. If you decide to create videos, be sure that they are subtitled (also it is crucial to be accessible to the hearing impaired).
Our audit also found that "animation & infographic" types of video work really well.
Attention span on video is really short, 30-60 seconds short (platform specific; YouTube is currently trending towards longer form content).

Photos

Photos are a great way to get someone to stop scrolling and get their attention.
Our audit found that our audiences (18-24 primary demographic) is ad-averse and will not interact with anything that looks like an advertisement or a flyer. This finding was applicable across all university platforms.
After looking at my own analytics, I found that designed pieces do not do as well on social media as my photos without any text or design elements.
What seems works best, even on Instagram, is to just show the photograph with all the information in the copy (description). People are reading it and clicking through.

Links

Links may not get as much algorithmic love as visual posts (video, photos), but as bloggers our audience knows that we will be sharing links!
Don't just share the link and say nothing or just the title – my interactions are always way better when I remember to customize my sharing message and use a lede to hook people & click!
As a blogger sharing your own content, you have control over what image gets shown as the link preview by setting a featured image on your post.

Status update

I think that our niche is a bit different because I see a lot of interaction (especially on Twitter) on just random musings & updates.
All of this information is based on the knowledge I gleaned from a communicators conference I attended earlier this month, a social media audit, and blog posts on the subject of social media marketing. I did my best to tweak to our niche as I work in philanthropy in higher education and not all of our findings are necessarily relevant.
What does this mean for social media? Experiment with your content! Try different kinds of posts and see what works for you.
Platform Specific Challenges
Do not treat each social media platform the same; each platform has its strengths and what works on one can very well flop on another.
If I can give you one piece of advice: unlink your Facebook/Twitter/Instagram from one another. The message copies over weird and looks a mess, and I bet if you look at your analytics you will see that people aren't clicking through. If you have a photo you are posting for Instagram and also want to share it on Twitter – do the post on Twitter and upload the image – you can link to the Instagram post if you want to drive traffic to it (which will be way better as it will be a photo post!).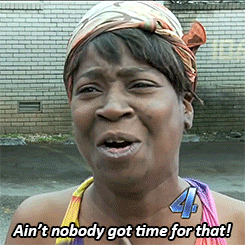 This is the main reason that I personally have decided to focus only on Twitter for my blog's social media marketing (yes, we are all marketing our content). For me, I didn't want to tweak and tailor my message to multiple platforms. In my professional experience, Facebook has garnered the least Return on Investment (ROI) and I hate the platform so it was a no-brainer for me. This has allowed me to focus all my attention on interacting with people on one platform!
Importance of Creating a Strategy
I can feel you all screaming that you don't have the time from here. I am not saying that you need to create an editorial calendar for posts or that you need to have a marketing plan for your blog, but it is important to have a purpose behind everything that you post.
What are your goals?
What do you want to get out of your social media platforms? Is it to grow a following to drive additional traffic to your blog? Is it to create a community? Whatever that reason is for you, use it as your North Star when posting to ensure that the post will help you achieve those goals.
Establishing a brand
Establish a brand? But I am a person! I know what you are thinking and no I am not suggesting that you become the next Nike. When talking about a brand, social media communicators are talking about the writing style (voice), color scheme, photo set-up, typeface: anything that tells the audience that this is you.
The more consistent your branding and messaging ultimately builds awareness, credibility, and ultimately loyalty. Think about some of your favorite Twitter and Instagram people that you follow. Who stands out and comes to mind right away? Cait @ Paper Fury's brand of lists and comedic tweets is a great example of having a brand.
Having a visual brand is incredibly important on Instagram and can be anything from a camera angle to aesthetics to just books.
Who is your target audience?
Professionally speaking, we write content with a specific audience in mind but often times those expectations do not align with who is actually consuming our content. With social media, you have no real way to segment the audience like with email marketing, and generally speaking, you cannot hit every demographic with each post.
This is something that won't be as big of a struggle for us niche bloggers because our target audience is 'book lovers.' When writing content be sure to keep this audience and your brand in mind!
Using Analytics to your Advantage
Data nerds like me are going to rejoice in this section! Analytics are the data provided by the social media platform that provides you insight on what is working with your audience and allows you to tweak your content accordingly.
You can see your audience's demographics when they are online (Facebook), and exactly how well each post did. This is the best way for you to glean the types of content your audience wants to see.
Links to the Analytic Treasure Trove
Twitter Analytics has charts and tables for most of the statistics you would need to see what is working if you click on the Tweets tab. You will see your most popular tweets and charts for average engagements, link clicks, etc. I recommend downloading your data because it is the only way to see the times of your posts.
Facebook Analytics does not have a static page that I can link to, but when you go to the page as an admin or team member you will want to click on Insights and can click on Export Data. I export both the page and post data.
Pinterest Analytics has charts and tables for most of the statistics you would need to see what is working! By clicking on profile, people you reach, and activity will bring you to a page where you can export your analytics files if you want the underlying data to make your own reports.
Instagram Analytics I don't use Insta professionally so I do not have access to Insights as it is only for Business Accounts. Here is additional information about Instagram analytics and how to find them.
I have a bunch of data… now what?!
Now that you have more data than you could ever want, it is time to talk about how to easily get insights without pouring over rows of data that don't mean anything to you.
I personally value impressions (the number of people that see the post) and engagement (the number of people that click on the post, like it, etc). But if you downloaded the underlying data files you will see that there's a ton of information that you don't need to care about.
Unfortunately, there isn't an automated/overall reporting on the overall engagements, impressions, and engagement rate, but it is easily calculated:
Scroll down to the bottom (how far will depend on the number of Tweets you have). Column E will always be Impressions and F for Engagements, so here are the formulas you will need, just type this into the box!
Impressions: =SUM(E2:Ewhatever the last row of data is)
Engagements: =SUM(F2:Fwhatever the last row of data is)
Engagement Rate:=SUM(F493/E493) <– the row where your totals are
Once you have this information, you can plug it into the free templates that I created for you!
All you need to do is plug in numbers each month from your report and the charts will update for you! The spreadsheet has tabs for each template: Twitter and Facebook (working on creating something meaningful for Pinterest) and hopefully will help you spend less time looking at data!
A/B Testing
A/B testing is used in marketing to test out the best marketing approach, and you can use your analytics to help find your social media sweet spot for success. when you A/B test everything about the post is exactly the same except for the one variable that you want to test: time of day, color scheme, image sharing, etc.
I use A/B testing frequently for the time of day for posting. I found that my posts that go up around 9 a.m. my time don't do as well because it is a popular posting time and the Tweets get buried quicker. I know that I have a lot of international followers and have been reposting content for other timezones to find the sweet spot.
Did you know the average life of a Tweet is 14 minutes? You have a brief window of timeliness, but the great thing about this is that you can share the same content on Twitter throughout the day to reach new people. You really should be promoting your posts more than just once on Twitter. 
Just because something works for Blogger A doesn't mean that it will work for you and your audience. Just because my posting sweet spots are 10 p.m. and 7 a.m. PST doesn't mean that it will work for you…
Scheduling Content
In the connected world that we live in, algorithms favor accounts that post regularly. I have seen many bookstagrammers lament about their reach and engagements going down when they aren't consistent, and that is because the algorithm is playing against you. But no one wants to spend their entire day attached to their socials, which is why you should schedule consistent content ahead of time and then interact, reply, etc on your own time schedule.
I wrote an entire post about using Hootsuite to schedule content, so be sure to check it out!
Here are some platform-specific rules of thumb for minimum posting frequency to help you figure out what will work best for you. Here is a recent study with additional information, but I disagree with their suggestion for Tweets so I ignored it below. Muaha.
Twitter: minimum of 3 Tweets per day
Facebook: minimum of once per day (or weekly, depending on your content. Just be consistent)
Instagram: minimum of 1-2 posts per day
Pinterest: 11 pins per day
Graphics and Resources
We are coming to the end of the guide, high five to you if you are still reading this!
One of the most annoying things about being a social media communicator is having to tailor content per platform, and it is most evident with graphics. Ideal image dimensions are different for each platform and unfortunately, they change often. I highly recommend that you bookmark this Guide to Social Media Image Sizes by Sprout Social as it is constantly being updated.
If you do not have fancy graphics software, here are some free resources available to you for graphic design. The images, unless otherwise noted, are free for commercial use.
Design: Canva is the best web-based platform for free graphic design. They have tons of customizable templates that are free to use.
Free vectors and PSD files: Freepik.com
General Rules of Thumb
Here are a few final tidbits that didn't fall easily into the above categories.
People don't like following accounts that are solely self-promo. The general rule of thumb in the field is for every post about your own content, you should have 4 posts or boosts about other topics that would be of interest to your audience. This can be news stories, sharing other bloggers' posts, etc.
Timeliness is everything; take advantage of trends, hashtags, and special days. Ever recognize a trending hashtag and want to jump in only to have it be too late? Or how about you see bloggers planning content in advance for International Reading Day? Take a peek at those national and international theme days and make a note to participate in the future! Easy content and you can take advantage of a popular topic, and it is easiest to anticipate participation and have really good content rather than be reactionary.
Here are some interesting social media statistics from 2017 in video format, no audio needed.
[youtube https://www.youtube.com/watch?v=PWa8-43kE-Q]
I hope that you found this overall guide helpful! I really think that using social media thoughtfully can increase traffic and engagement with your followers.
I alluded to this at the top of the post, but in April 2018 I decided to use my inactive Twitter account to help promote my blog. For my blog there is a direct correlation between my usage of Twitter and the number of followers my blog had. In March I focused solely on blog hopping, it was not until I started promoting my blog, having conversations with followers, and making friends that my blog started to grow.
Behind the WordPress Reader, Twitter is by far my biggest referrer of traffic.
I don't share these numbers to brag but really to provide context as to how being mindful with your social media platforms can work well… essentially a fifth of my views come from Twitter! And as for Pinterest (the platform I keep forgetting about and don't use)? A whopping 9 referrals total.
---
I hope you found this guide helpful! What burning questions do you have about Social Media strategy do you still have?
💖 If you like the work that I do here at Reader Voracious, consider fueling my pumpkin spice latte and black tie addiction by buying me a ko-fi! ☕
---