(Last Updated On: September 22, 2019)
About the Book



Publisher: Owl Hollow Press  |  Release Date: March 20, 2018  |  Pages: 368
Genre: Young Adult, Fantasy, Urban Fantasy  |  Format: Paperback  |  Source: Author
Anna is a student surviving the city, and she lives by a simple credo, "Never play their game; their game is always rigged." For every man she has ever known, it's a saying that has served her well.
That all changes on the night of "The Big Storm," when Anna is slipped a date rape drug. Though she saves herself and her best friend, Anna is lost to the dark heart of the city and finds herself hunted by The Night Collectors. Unsure if these monsters are real or hallucinations, Anna nonetheless fights them as best she can. The battle attracts a stranger—Teej—who saves her using powers she cannot understand. He explains that she is an Undreamer and possesses the same powers, and in the future, he will not be the one to save her. She will save him.
But Anna is not yet ready to join Teej and stand against The Dreamers. She has difficult decisions of her own to make. Decisions she has always run from. She still has her partner's suicide letter. It remains unopened. She still wears his ring, though she can't seem to remember his face.
Anna learns of The Dreamers – artists so preeminent in their respective fields that they can paint, dance, sew or sing new realities – and as she travels through their creations, she learns that there's as much beauty in the world as there is horror. With a complex conspiracy at work within the community of Dreamers that threatens to undermine reality itself, Anna will have to look deep within herself, and eventually have to face the horrors of her own past, to save her old world as well as her new one.
Anna Undreaming is a dark urban fantasy, and the first book in The Metiks Fade trilogy.
This post uses affiliate links and I may receive a small commission for purchases made through my links at no additional cost to you. Click here for more info.
Goodreads  Amazon B&N Book Depository
---
My Review
"A spark caught, and she felt something awaken. Something angry and defiant."
This is a book that has haunted me and my physical TBR shelf since May 2018. Anna Undreaming was the first physical book that I was sent for review and one that I have been really excited to read, but mood reading stinks. I knew in my bones that this was a story that I would absolutely love, and wanted to wait for the absolute right time to read it… and it just so happens that the right time was eight months later. I'm sorry Thomas, but this book was definitely worth the wait!
"Anna… in a world of dwindling light, you're a bonfire in the night."
This book is beautifully written and fast-paced, an effortless and engaging read right from the first pages. Welsh has crafted a magical feeling world just behind the veil of our understanding, a world ruled by Dreamers where monsters roam.
"People experience Hazes… they don't see them. The mind rationalizes it all away."
Hazes are described as part of our world (I kind of think of them like the Fade in the Dragon Age games) and they are created, ruled, and maintained by Dreamers. Anything goes within their Hazes and "within the Haze the dreamer is God and can dream anything into reality. They can change the rules of existence, and they can make and unmake life itself." Think of it like Inception.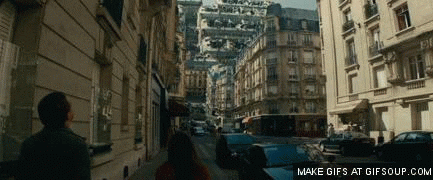 Our protagonist is Anna, a 20-something graduate who has recently experienced the death of her husband. At the beginning of the book, Anna and her friend Sue are drugged at a bar she is at by the guy her friend is with "to loosen her up." Lovely. (As a note, you can skip the first chapter to avoid the bar scene and that misogynistic pig Dean.) The side effect of this special drink is that she becomes aware of the Hazes, and her life will never be the same. Turns out she is a rare foil to the power of the Dreamers; as an Undreamer she has the ability to destroy the Hazes, and there is a faction of Dreamers called the Doxa that will stop at nothing to destroy her before she realizes her power.
The entire book is a masterful exposition into a new world just beyond the understanding of our reality. There is a lot of world-building but it never once felt like an info dump. The way that Welsh unveiled the intricacies of the new world that Anna's found herself in is through a mentor, Teej. We are learning about everything alongside Anna, with information doled out as it is necessary in the plot. I never felt overloaded or confused, but definitely was eager to learn more.
We never really learn Anna's age, but early on we find out that she was Anna is a recent graduate, who wrote a thesis called "Absurdism and Camus." I would definitely love to talk to her at a party because philosophy and I are like best friends and no one wants to talk Nietzsche to me.
"… that darkness you feel. It doesn't go away, but eventually, you see it as just a different kind of light."
Anna Undreaming is definitely a plot-driven narrative. There are glimpses about the pasts of Anna and Teej, but I didn't really learn a lot about the characters in this book. Somehow despite this there is excellent character development, which is honestly masterful. Anna and Teej's relationship evolves from skepticism to loyalty, and their interactions all felt real to me. I fell and rooted for them, and was intrigued by the secrets of the past that were alluded to throughout the story. I really enjoy this narrative technique when it is done well like the narrator is "the characters have a secret, and if you keep reading I will tell you what it is." The setting and world of Anna Undreaming is almost a character itself, and with all the necessary world-building done, I am really excited for the rest of the trilogy.
The concepts of light and darkness run throughout the book. Anna is referred to as a beacon of light in a dark world, and Anna has been succumbing to the darkness of her own despair. One of the Hazes that Anna is brought into brings the darkness and despair in a place where everyone eventually drowns themselves. I found it to be a beautiful metaphor for her own grief, and as a person who personally suffers from depression and suicidal ideation, I appreciated her falling literally into the depths of her despair but still finding the will to fight. I absolutely loved the ending so much, but I mention it because I want you to be aware and in the right headspace before picking this book up.
This book reads like a Young Adult fantasy in style, but actually features a new adult aged protagonist and other adult characters. If you've been looking for a YA style fantasy with NA aged characters… READ THIS BOOK. I know the NA classification has come to largely encompass a specific genre, but this is a true gem and what I want to see published more often. This book also has crossover appeal with teenagers.
This book is like reading a dream. It has hints of Alice in Wonderland, and I felt like both Anna and I went through the looking glass into a fantastical Inception-like world. The book is fast-paced and captivating, and I really enjoyed it.
Overall this is an incredible story written in the young adult fantasy style but with new adult aged characters! I was immersed in the story with its  Don't sleep on this book and trilogy, friends! Anna Undreaming was published in March 2018 and has flown under the radar with just 26 reviews on Goodreads as of my writing this review (with a 4.31 average on 72 ratings). The second book in the Metiks Fade Trilogy, Anna and the Moonlight Road, will be released this Spring by Owl Hollow Press and I cannot wait!
Many thanks to Thomas Welsh and his publicist for sending me a finished copy of this book in exchange for my honest review! 
Content warnings: death of a loved one, depression, drugged drinks (contained to the first chapter), thoughts of suicide
---