(Last Updated On: June 20, 2019)
Hello voracious readers! I saw this meme posted over on Naty's Bookshelf and just had to do it too! If you are anything like me, you rate a lot of books – and Goodreads uses those in part to recommend books to us. I'll admit that I don't really use the GR recommendations, but maybe I should! So I have chosen five books off my recommended page and deciding to add to my TBR or not. (Spoiler alert: I need to visit my recommendations more often.)
---
Recommendations > Favorites Shelf: Because you added "Slaughterhouse-Five"
The Painted Bird by Jerzy Kosiński
Synopsis
Originally published in 1965, The Painted Bird established Jerzy Kosinski as a major literary figure. Called by the Los Angeles Times "one of the most imposing novels of the decade," it was eventually translated into more than thirty languages.

A harrowing story that follows the wanderings of a boy abandoned by his parents during World War II, The Painted Bird is a dark story that examines the proximity of terror and savagery to innocence and love. It is the first, and the most famous, novel by a writer who is now discredited.
This synopsis leaves much to be desired; however, I think that these themes will particularly resonate with me. While much of what I love about SH5 are the science fiction elements and his satirist style, I am going to add this.
---
Recommendations > Favorites Shelf: Because you added "Ignorance"
Gabriel's Gift by Hanif Kureishi
Synopsis
Gabriel's father, a washed-up rock musician, has been chucked out of the house. His mother works nights in a pub and sleeps days. Navigating his way through the shattered world of his parents' generation, Gabriel dreams of being an artist. He finds solace and guidance through a mysterious connection to his deceased twin brother, Archie, and his own knack for producing real objects simply by drawing them.
A chance visit with mega-millionaire rock star Lester Jones, his father's former band mate, provides Gabriel with the means to heal the rift within his family. Kureishi portrays Gabriels' naive hope and artistic aspirations with the same insight and searing honesty that he brought to the Indian-Anglo experience in The Buddha of Suburbia and to infidelity in Intimacy. Gabriel's Gift is a humorous and tender meditation on failure, redemption, the nature of talent, the power of imagination–and a generation that never wanted to grow up, seen through the eyes of their children.
Okay this sounds interesting and kind of touching, adding this too. Send help!
---
Recommendations > TBR Shelf: Because you added "To Kill a Kingdom" and "Sea Witch"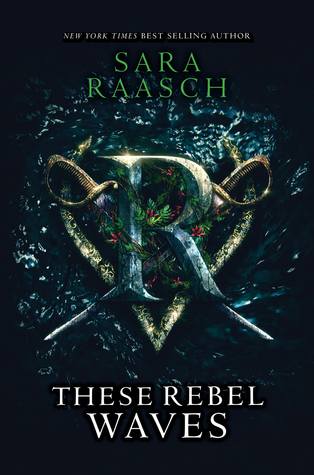 These Rebel Waves (Stream Raiders #1) by Sara Raasch
Synopsis
Adeluna is a soldier. Five years ago, she helped the magic-rich island of Grace Loray overthrow its oppressor, Argrid, a country ruled by religion. But adjusting to postwar life has not been easy. When an Argridian delegate vanishes during peace talks with Grace Loray's new Council, Argrid demands brutal justice—but Lu suspects something more dangerous is at work.

Devereux is a pirate. As one of the outlaws called stream raiders who run rampant on Grace Loray, he pirates the island's magic plants and sells them on the black market. But after Argrid accuses raiders of the diplomat's abduction, Vex becomes a target. An expert navigator, he agrees to help Lu find the Argridian—but the truth they uncover could be deadlier than any war.

Benat is a heretic. The crown prince of Argrid, he harbors a secret obsession with Grace Loray's forbidden magic. When Ben's father, the king, gives him the shocking task of reversing Argrid's fear of magic, Ben has to decide if one prince can change a devout country—or if he's building his own pyre.

As conspiracies arise, Lu, Vex, and Ben will have to decide who they really are . . . and what they are willing to become for peace.
Holy hell, cover art appreciation! Pirates, magic, heretics? This book wasn't on my radar for it's August release, but now it is and I will sell my soul for an ARC!
---
Recommendations > TBR Shelf: Because you added "They Both Die at the End"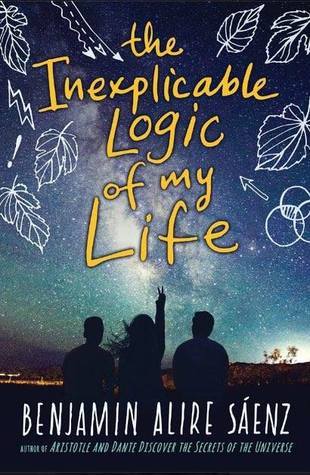 The Inexplicable Logic of My Life by Benjamin Alire Sáenz
Synopsis
The first day of senior year:

Everything is about to change. Until this moment, Sal has always been certain of his place with his adoptive gay father and their loving Mexican-American family. But now his own history unexpectedly haunts him, and life-altering events force him and his best friend, Samantha, to confront issues of faith, loss, and grief.

Suddenly Sal is throwing punches, questioning everything, and discovering that he no longer knows who he really is—but if Sal's not who he thought he was, who is he?
This cover is gorgeous, and to be honest the title sounds relatable af. Adding this too, uh oh.
---
Recommendations > TBR Shelf: Because you added "The Name of Wind"
Elantris (Elantris #1) by Brandon Sanderson
Synopsis
Elantris was the capital of Arelon: gigantic, beautiful, literally radiant, filled with benevolent beings who used their powerful magical abilities for the benefit of all. Yet each of these demigods was once an ordinary person until touched by the mysterious transforming power of the Shaod. Ten years ago, without warning, the magic failed. Elantrians became wizened, leper-like, powerless creatures, and Elantris itself dark, filthy, and crumbling.

Arelon's new capital, Kae, crouches in the shadow of Elantris. Princess Sarene of Teod arrives for a marriage of state with Crown Prince Raoden, hoping — based on their correspondence — to also find love. She finds instead that Raoden has died and she is considered his widow. Both Teod and Arelon are under threat as the last remaining holdouts against the imperial ambitions of the ruthless religious fanatics of Fjordell. So Sarene decides to use her new status to counter the machinations of Hrathen, a Fjordell high priest who has come to Kae to convert Arelon and claim it for his emperor and his god.

But neither Sarene nor Hrathen suspect the truth about Prince Raoden. Stricken by the same curse that ruined Elantris, Raoden was secretly exiled by his father to the dark city. His struggle to help the wretches trapped there begins a series of events that will bring hope to Arelon, and perhaps reveal the secret of Elantris itself.

A rare epic fantasy that doesn't recycle the classics and that is a complete and satisfying story in one volume, Elantris is fleet and fun, full of surprises and characters to care about. It's also the wonderful debut of a welcome new star in the constellation of fantasy.
Okay after being 4/4, I will admit that I chose this one because it was first in the category and I specifically don't like the cover. (I know, I am horrible and judgey!) Now I am glad that I gave this one a chance because not only does this sound amazing but it also is highly rated on GR.
Okay so this little experiment shows that I should probably visit my recommendations page more often… and should stop judging books by their covers. Too many books, not enough time!
What about you, voracious readers? What gems lie in your recommended?
---