(Last Updated On: January 2, 2021)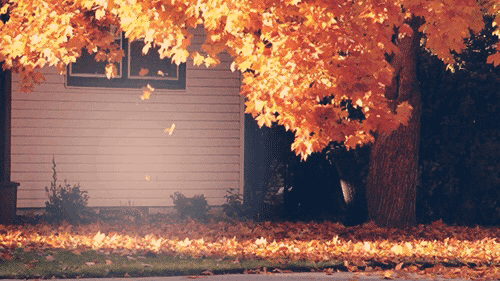 We're knee-deep in fall here in the northern hemisphere, and the temperature is finally beginning to cool down here in San Diego. Which for me means more time curled up reading books and drinking fall beverages, which for me means pumpkin spice everything.
Today I'm sharing 5 books with fall vibes that you all should read, as well as my dupe recipe for Starbucks' pumpkin cream cold brew. Get in your cozy spot and grab your favorite beverage!
5 Books with Perfect Fall Vibes
Cemetery Boys by Aiden Thomas
A trans boy determined to prove his gender to his traditional Latinx family summons a ghost who refuses to leave in Aiden Thomas's paranormal YA debut Cemetery Boys, described by Entertainment Weekly as "groundbreaking."
Yadriel has summoned a ghost, and now he can't get rid of him.
When his traditional Latinx family has problems accepting his true gender, Yadriel becomes determined to prove himself a real brujo. With the help of his cousin and best friend Maritza, he performs the ritual himself, and then sets out to find the ghost of his murdered cousin and set it free.
However, the ghost he summons is actually Julian Diaz, the school's resident bad boy, and Julian is not about to go quietly into death. He's determined to find out what happened and tie off some loose ends before he leaves. Left with no choice, Yadriel agrees to help Julian, so that they can both get what they want. But the longer Yadriel spends with Julian, the less he wants to let him leave.
Cemetery Boys is a delightful YA paranormal fantasy debut set during Día de Muertos that features a trans main character, a ghost love interest, gay romance, and brujeria that is bound to capture your heart!
Perfect for fans of soft romance, heartwarming found families, charming characters, and coming-of-age stories.
---
Strange Grace by Tessa Gratton
Once, a witch made a pact with a devil. The legend says they loved each other, but can the story be trusted at all? Find out in this lush, atmospheric fantasy novel that entwines love, lies, and sacrifice.
Long ago, a village made a bargain with the devil: to ensure their prosperity, when the Slaughter Moon rises, the village must sacrifice a young man into the depths of the Devil's Forest.
Only this year, the Slaughter Moon has risen early.
Bound by duty, secrets, and the love they share for one another, Mairwen, a spirited witch; Rhun, the expected saint; and Arthur, a restless outcast, will each have a role to play as the devil demands a body to fill the bargain. But the devil these friends find is not the one they expect, and the lies they uncover will turn their town—and their hearts—inside out.
Strange Grace is an amazing atmospheric and poetically written story that celebrates the found family, the love people feel for one another, and the sacrifices they are willing to make for the people they love.
Perfect for fans of lyrical prose and mystical adventures. It's a weird and beautiful book that feels like reading someone's fever dream.
---
House of Salt and Sorrows by Erin A. Craig
In a manor by the sea, twelve sisters are cursed.
Annaleigh lives a sheltered life at Highmoor, a manor by the sea, with her sisters, their father, and stepmother. Once they were twelve, but loneliness fills the grand halls now that four of the girls' lives have been cut short. Each death was more tragic than the last—the plague, a plummeting fall, a drowning, a slippery plunge—and there are whispers throughout the surrounding villages that the family is cursed by the gods.
Disturbed by a series of ghostly visions, Annaleigh becomes increasingly suspicious that the deaths were no accidents. Her sisters have been sneaking out every night to attend glittering balls, dancing until dawn in silk gowns and shimmering slippers, and Annaleigh isn't sure whether to try to stop them or to join their forbidden trysts. Because who—or what—are they really dancing with?
When Annaleigh's involvement with a mysterious stranger who has secrets of his own intensifies, it's a race to unravel the darkness that has fallen over her family—before it claims her next.
Goodreads Read my ARC Reviewlin
House of Salt and Sorrows by Erin A. Craig is a masterfully crafted and hauntingly atmospheric debut Gothic fantasy retelling of Twelve Dancing Princesses.
Perfect for fans of books with sisterly bonds, magic, and dreamlike adventures.
---
Truly Devious by Maureen Johnson
Ellingham Academy is a famous private school in Vermont for the brightest thinkers, inventors, and artists. It was founded by Albert Ellingham, an early twentieth century tycoon, who wanted to make a wonderful place full of riddles, twisting pathways, and gardens. "A place," he said, "where learning is a game."
Shortly after the school opened, his wife and daughter were kidnapped. The only real clue was a mocking riddle listing methods of murder, signed with the frightening pseudonym "Truly, Devious." It became one of the great unsolved crimes of American history.
True-crime aficionado Stevie Bell is set to begin her first year at Ellingham Academy, and she has an ambitious plan: She will solve this cold case. That is, she will solve the case when she gets a grip on her demanding new school life and her housemates: the inventor, the novelist, the actor, the artist, and the jokester. But something strange is happening. Truly Devious makes a surprise return, and death revisits Ellingham Academy. The past has crawled out of its grave. Someone has gotten away with murder.
The two interwoven mysteries of this first book in the Truly Devious series dovetail brilliantly, and Stevie Bell will continue her relentless quest for the murderers in books two and three.
New York Times bestselling author Maureen Johnson weaves a delicate tale of murder and mystery in the first book of a striking new series, perfect for fans of Agatha Christie and E. Lockhart.
Truly Devious is captivatingly crafted and told in two storylines: 1936 and present. The omniscient narrator unravels the 1936 mystery slowly through various character perspectives, newspaper clippings, and police interviews; while the present-day narrative is told largely from Stevie's point of view. Be warned that there is a giant cliffhanger, so be prepared to have the second book ready!
Perfect for fans of boarding school contemporaries, true crime adventures, and unsolved cold cases.
---
None Shall Sleep by Ellie Marney
The Silence of the Lambs meets Sadie in this riveting psychological thriller about two teenagers teaming up with the FBI to track down juvenile serial killers.
In 1982, two teenagers—serial killer survivor Emma Lewis and US Marshal candidate Travis Bell—are recruited by the FBI to interview convicted juvenile killers and provide insight and advice on cold cases. From the start, Emma and Travis develop a quick friendship, gaining information from juvenile murderers that even the FBI can't crack. But when the team is called in to give advice on an active case—a serial killer who exclusively hunts teenagers—things begin to unravel. Working against the clock, they must turn to one of the country's most notorious incarcerated murderers for help: teenage sociopath Simon Gutmunsson. Despite Travis's objections, Emma becomes the conduit between Simon and the FBI team. But while Simon seems to be giving them the information they need to save lives, he's an expert manipulator playing a very long game…and he has his sights set on Emma.
Captivating, harrowing, and chilling, None Shall Sleep is an all-too-timely exploration of not only the monsters that live among us, but also the monsters that live inside us.
None Shall Sleep by Ellie Marney is a captivating thriller with fantastic characters and a compelling plot that will keep you gripped to the very end.
Perfect for fans of Mindhunters, true crime, and Criminal Minds.
Pumpkin Cream Cold Brew Recipe
Pumpkin Cream Cold Brew
A dupe recipe of Starbucks' Pumpkin Cream Cold Brew. Enjoy your favorite fall drinks all year-round (for cheaper)!
Cold Brew Concentrate
2 cups your favorite coffee (course grind)
64 ounces filtered water
Pumpkin Pie Mix
1/4 cup powdered sugar
2 tbsp pumpkin pie spice
1 can pumpkin puree
Cold Brew Concentrate
Place the Cold Brew Infuser into the Mason Jar

Fill the Cold Brew Infuser with 2 cups of coarsely ground coffee (pre-ground coffee is too fine and can seep into the coffee)

Add 64 ounces of filtered water into the mason jar over the coffee slowly (so the grounds get wet and water doesn't overflow)

Put the lid on the mason jar and leave for 24 hours (you can leave on the counter or put in your refrigerator)

Remove the cold brew infuser and fill the mason jar to the top with water; store in refrigerator for up to one week
Pumpkin Cream
Combine heavy whipping cream and canned pumpkin pie mix in a mixing bowl

Whisk the ingredients for about 2 minutes or until it thickens to a light, airy consistency

Store in refrigerator for up to one week
Pumpkin Cream Cold Brew Dupe
In a glass, add some of the pre-made Cold Brew Concentrate and water (so the cold brew is to your preferred strength)

Add ice, if desired

Top the coffee with a spoonful or two of the pumpkin cream
The great thing about this recipe is you make a batch of both the cream and cold brew concentrate in advance. This will speed up your coffee needs in the morning and will also save your wallet!
Imporante Note: When brewing cold brew or using a French Press for coffee, you want to use coarsely ground coffee. Pre-ground coffee is fine and best used for espresso and drip coffee machines. I recommend buying whole coffee beans and grinding them yourself – many grocery stores have a free grinder in-store you can use so you don't need to grind the beans yourself at home.
What books and drinks scream Fall to you? Are you a fan of pumpkin spice everything? Will you try my recipe?
Let's chat in the comments!