(Last Updated On: October 31, 2020)
Happy Halloween, ghouls and pals! It's my favorite day in my favorite month of the year, and this year we have a full moon as well! The vibes are strong with Halloween 2020. And what better way to celebrate than with the Hocus Pocus Book Tag!?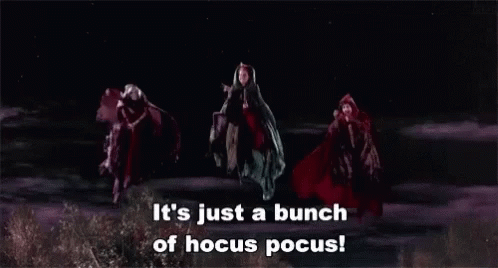 Words can't express how much I love this movie. I have many fond memories of me in the sixth or seventh grade, laying on my dining room table and talking on the phone with my friend Katie about how hot Thachary Binx is. I watch Hocus Pocus many times a year and it's one of my faves!
I saw this over on Caro's blog, The Bookcheshire Cat, and remembered that I had this tag sitting in my tag hoard of doom?! Many thanks to my buddy Katie @ Never Not Reading for creating this amazing tag three years ago – be sure to check out their blogs & show them some witchy love!
It's Just a Bunch of Hocus Pocus!
The Sanderson Sisters
A great trilogy.
Surprising absolutely nobody, this has to go to the three trilogies that I won't shut up about: This Mortal Coil by Emily Suvada, The Shadow Game by Amanda Foody, and The Empirium Trilogy by Claire Legrand. You can read my reviews for them by clicking the links below in case you haven't seen them yet! And I hereby pledge to not give any of these books as answers in the rest of this tag.

This Mortal Coil  The Shadow Game  Empirium Trilogy
---
Winifred Sanderson
A book with a truly evil female villain.
Vianca Augustine from Ace of Shades & King of Fools.  The Lady from Raybearer by Jordan Ifueko comes to mind as a fantastic villain. I mean, the woman uses her daughter as a pawn in a murder plot. But not only that, she is so much more complicated that an arch villain which makes her that much more believable.
---
Sarah Sanderson
A book that uncannily attracts children.
Percy Jackson and the Olympians, and all of the other series in the Percy Jackson universe. I am actually reading these books for the first time in my 30s right now, and let me tell you: they are magical. I am so thankful that Uncle Rick is a Good Egg and inspires generations of readers with his books… and also uses his privilege to bring diverse voices to kidlit as well.
Unrelated tangent: I was obsessed with Sarah Sanderson as a child and dressed up as her for Halloween a few years in a row. There is no point to this tangent. I just wanted to share.

---
Mary Sanderson
A book that is just plain silly.
I don't read a lot of light and fun books these days (I should really fix that), but hands down I have to say My Lady Jane by Cynthia Hand, Brodi Ashton, and Jodi Meadows! Sometimes what you need to banish a book hangover is historical fantasy where Lady Jane Grey is married to a man who spends his days as a horse. This book is hilarious but also manages to tackle sexism, classism, and privilege.
---
Max
A book that is trying really hard to be cool, but doesn't always succeed.
Definitely The Babysitter's Coven by Kate Williams, but emphasis on not really succeeding at all. This book is the epitome of Nostalgia Marketing for people my age but written for what you think kids today are like. From weird slang and speaking in chaspeak, it's a cringefest.
---
Dani
A book that isn't afraid to tell it like it is.
Cinderella is Dead by Kalynn Bayon comes to mind in its unabashed feminist rage and critical analysis of patriarchal society. But in terms of a harsh look at the reality of society, Anger is a Gift is a powerful book that's unafraid to shine a light on the ugly parts of contemporary society.
Cinderella is Dead Review  Anger is a Gift Review
---
Allison
A book that's game for adventure.
I have a love for pirate adventures, and All the Stars and Teeth by Adalyn Grace is a perfect example of a book that's game for adventure. A close second has to be the character Iltani from Kelly Coon's Gravemaidens though, because she is the literal epitome of 'ride or die' best friend and I am here for it. (Psst have you joined the Gravemaidens readalong yet? It starts tomorrow!)
All the Stars and Teeth Review  Gravemaidens Review
---
Binx
A book series that just won't die.
Honestly, the only series that comes to mind is Twilight but that just kind of feels like a cop out? I know there are plenty of franchises that overstay their welcome, but it is as if they have all left my head at the same time.
---
Ice
A book with a character that's dumb as a rock.
I can't think of a book with a literal dumb character, but what does come to mind is my least favorite plot device: conflict that could be easily resolved by the characters speaking to one another. Rule by Ellen Goodlett has three characters who do this. THREE! And not only that, but the third-person omniscient narrative style did this story a disservice because it kills all suspense for the reader. It's been over two years and this book still pisses me off.
---
The Black Flame Candle
A book or series you wish you could resurrect. 
I'm a huge advocate of ending series before they overstay their welcome and turn me bitter, so this question is difficult for me. I'd love more in the world of Caraval, though! Not with Tella and Scarlett, but more about Jacks or the Fates.
Caraval Review  Legendary Review  Finale Review
---
Headless Billy Butcherson
A book that's not so bad as people make it out to be.
My unpopular opinions tend to swing in the other direction, so I don't have an answer for this one.
---
Winifred Sanderson's Spell Book
A book with a mind of its own.
I have no clue for this one, which is a shame because the book is iconic.
---
Garry Marshall
A book with a cameo.
Basically all of Kurt Vonnegut's books. One of my favorite things about his novels is how Kilgore Trout appears in so many of them, or that Tralfmadorians are at the center of Sirens of Titan and a big aspect of Slaughterhouse-Five, but none of his books are really connected. It's like an Easter egg hunt to find all of the references the more of his fiction you read and I love it.
Slaughterhouse-Five Review  Cat's Cradle Review
I hope you enjoyed reading this post as much as I did writing it! If you'd like to do this one, consider yourself tagged!
🎃 Happy Halloween, ghouls and goblins! 🎃
Stay safe and wash your hands.
---
Let's go on another adventure together!