(Last Updated On: June 20, 2019)
Welcome one and all to Reader Voracious and my fourth day as a Blogoween host! This is my final day as a host and my final awesome prompt for you to use on your blog in celebration of Blogoween. In case you aren't sure what this is, you can check out the information post here, and a list of all the prompts can be found here.
I look forward to blog hopping to all of your blogs to see what you come up with, so please be sure to link back to this post so I can check out your responses!
---
Today's Blogoween Prompt
Prompt Title:  They got my back!
Explanation:  5 characters you would want with you during the zombie apocalypse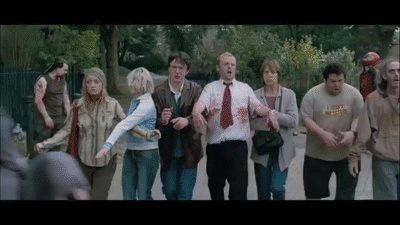 ---
At the risk of sounding like a crazy doomsday prepper, over the years I've developed multiple plans in the event of the zombie apocalypse. Because you gotta be prepared for the unexpected if you expect to survive. 🧟 And who knows what kind of zombies we could face? Will they be the stereotypical slow zombies or speedy zombies from The Return of the Living Dead? Will they be stupid or will they be capable of thought like in iZombie?
With all of this in mind, I have developed my Zombie Gang Team based on varying skillsets and multiple possibilities.
Guns/Crossbow Expert: Esmae from A Spark of White Fire by Sangu Mandanna. Trained by one of the best teachers around, Esmae is a master with the crossbow and other weapons, making her a great addition for range attacks & headshots especially. Because you know she shot a fish in the eye. Transferable skills, yo.
Knives expert: Lola from Ace of Shades is the obvious choice here. I also want to bring Enne along because she's badass as hell.
Hunter & Forager: I think that Mairwen Grace, Arthur Couch, and Rhun Sayer from Strange Grace would be a perfect trio for hunting, cultivation, and foraging. You can't separate them anyways, but they all bring such unique skills that would be perfect!
The Engineer: Josune Arriola from Stars Uncharted by S.K. Dunstall. Not only is she a brilliant engineer that could help our group create and fix things as needed, but she is also a badass fighter!
The Doctor: Mairwen's mom from Strange Grace as she is a healer.
---
Which characters would you want on your team during the zombie apocalypse?!
---