(Last Updated On: June 20, 2019)
Welcome one and all to Reader Voracious and my third day as a Blogoween host! For the next two days I will be providing an awesome prompt for you to use on your blog in celebration of Blogoween. In case you aren't sure what this is, you can check out the information post here, and a list of all the prompts can be found here.
I look forward to blog hopping to all of your blogs to see what you come up with, so please be sure to link back to this post so I can check out your responses!
---
Today's Blogoween Prompt
Prompt Title:  An Evening of Mystery & Murder
Explanation:  You're hosting a Halloween-themed dinner party and seven of your favorite morally gray fictional characters and/or villains have accepted your invitation. Sometime during the party there is a murder, and there are only seven suspects – you and your guests. Who did you invite, who was murdered, what was the murder weapon, and where in the house did it occur.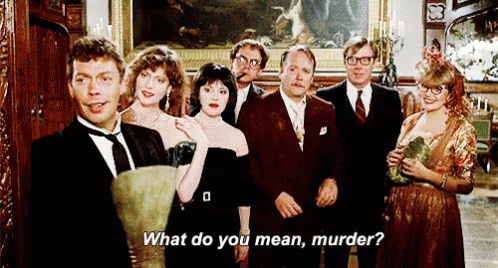 (Yes this prompt is inspired by Clue, the best movie based on a board game ever made.)
---
It's a dark and stormy Friday evening in October and your pulse is racing. It is almost time for the portal to open, breathing life into some of your favorite characters for a brief dinner party at your house. The truth is that you cannot believe tonight is here and happening: your favorite characters have accepted your invitation to dine and play a game of mystery… but no one could anticipate there would be more on the menu than Coq Au Vin.
The Guests
Holland from the Shades of Magic series
Levi from Ace of Shades
Victor Vale from the Villains series
Eli Ever from the Villains series
Maram from Mirage
The Sole Survivor on Achlys from Contagion
Dorian Gray from The Picture of Dorian Gray
The Murder
I bet you are thinking to yourself that the victim has to be Victor, right? WRONG! Turns out that Eli is the one to stumble upon Holland's body quite literally on the bathroom floor in a pool of blood. A knife lays sticky and discarded. You have a house full of suspects, who could the killer be?
---
It was Colonel Mustard, in the Observatory with the candlestick! Oh wait… wrong scenario… I'd like to see YOUR THOUGHTS on who the murderer could be in the comments down below! Whoever guesses correctly will get a metaphorical cookie when I reveal all later this month!
who do you think did it out of the list of suspects?
---