(Last Updated On: June 20, 2019)
Welcome one and all to Reader Voracious and my first day as a Blogoween host! For the next four days I will be providing an awesome prompt for you to use on your blog in celebration of Blogoween. In case you aren't sure what this is, you can check out the information post here, and a list of all the prompts can be found here.
I look forward to blog hopping to all of your blogs to see what you come up with, so please be sure to link back to this post so I can check out your responses!
---
Today's Blogoween Prompt
Prompt Title: Top 5 Books about Witches
Explanation: List your Top 5 favorite books about witches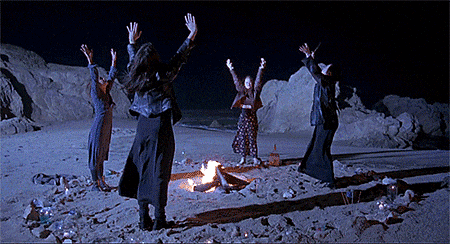 ---
🧙 My Top 5 Witch Books
Strange Grace by Tessa Gratton [ARC Review]
Once, a witch made a pact with a devil. The legend says they loved each other, but can the story be trusted at all? Find out in this lush, atmospheric fantasy novel that entwines love, lies, and sacrifice.

Long ago, a village made a bargain with the devil: to ensure their prosperity, when the Slaughter Moon rises, the village must sacrifice a young man into the depths of the Devil's Forest.

Only this year, the Slaughter Moon has risen early.

Bound by duty, secrets, and the love they share for one another, Mairwen, a spirited witch; Rhun, the expected saint; and Arthur, a restless outcast, will each have a role to play as the devil demands a body to fill the bargain. But the devil these friends find is not the one they expect, and the lies they uncover will turn their town—and their hearts—inside out.
This book was SO GOOD, friends, and it is now the bar I set for witchy books! The atmosphere was so good and spooky.
---
Good Omens: The Nice and Accurate Prophecies of Agnes Nutter, Witch by Terry Pratchett & Neil Gaiman
According to The Nice and Accurate Prophecies of Agnes Nutter, Witch (the world's only completely accurate book of prophecies, written in 1655, before she exploded), the world will end on a Saturday. Next Saturday, in fact. Just before dinner.

So the armies of Good and Evil are amassing, Atlantis is rising, frogs are falling, tempers are flaring. Everything appears to be going according to Divine Plan. Except a somewhat fussy angel and a fast-living demon—both of whom have lived amongst Earth's mortals since The Beginning and have grown rather fond of the lifestyle—are not actually looking forward to the coming Rapture.

And someone seems to have misplaced the Antichrist . . .
This book is so freaking good and gloriously weird. It's been a couple of years since I have read it and now it is on my list for a re-read so I can properly review it!
---
Witches of East End by Melissa de la Cruz
From the author of the highly addictive and bestselling Blue Bloods series, with almost 3 million copies sold, comes a new novel, Melissa de la Cruz's first for adults, featuring a family of formidable and beguiling witches.

The three Beauchamp women–Joanna and her daughters Freya and Ingrid–live in North Hampton, out on the tip of Long Island. Their beautiful, mist-shrouded town seems almost stuck in time, and all three women lead seemingly quiet, uneventful existences. But they are harboring a mighty secret–they are powerful witches banned from using their magic. Joanna can resurrect people from the dead and heal the most serious of injuries. Ingrid, her bookish daughter, has the ability to predict the future and weave knots that can solve anything from infertility to infidelity. And finally, there's Freya, the wild child, who has a charm or a potion that can cure most any heartache.

For centuries, all three women have been forced to suppress their abilities. But then Freya, who is about to get married to the wealthy and mysterious Bran Gardiner, finds that her increasingly complicated romantic life makes it more difficult than ever to hide her secret. Soon Ingrid and Joanna confront similar dilemmas, and the Beauchamp women realize they can no longer conceal their true selves. They unearth their wands from the attic, dust off their broomsticks, and begin casting spells on the townspeople. It all seems like a bit of good-natured, innocent magic, but then mysterious, violent attacks begin to plague the town. When a young girl disappears over the Fourth of July weekend, they realize it's time to uncover who and what dark forces are working against them.

With a brand-new cast of characters, a fascinating and fresh world to discover, and a few surprise appearances from some of the Blue Blood fan favorites, this is a page-turning, deliciously fun, magical summer read fraught with love affairs, witchcraft, and an unforgettable battle between good and evil.
I saw the television series first and really enjoyed it, so I picked up this book ages ago when the series was cancelled. I need to finish the trilogy and hopefully have a better ending for the Beauchamp women than the show provided!
---
The Bone Witch by Rin Chupeco
In the captivating start to a new, darkly lyrical fantasy series for readers of Leigh Bardugo and Sabaa Tahir, Tea can raise the dead, but resurrection comes at a price…

Let me be clear: I never intended to raise my brother from his grave, though he may claim otherwise. If there's anything I've learned from him in the years since, it's that the dead hide truths as well as the living.

When Tea accidentally resurrects her brother from the dead, she learns she is different from the other witches in her family. Her gift for necromancy means that she's a bone witch, a title that makes her feared and ostracized by her community. But Tea finds solace and guidance with an older, wiser bone witch, who takes Tea and her brother to another land for training.

In her new home, Tea puts all her energy into becoming an asha-one who can wield elemental magic. But dark forces are approaching quickly, and in the face of danger, Tea will have to overcome her obstacles…and make a powerful choice.
This is actually a book that I haven't read yet but it is on my TBR and prioritized because of the amazing reviews I have seen. Have you read it?!
---
A Discovery of Witches by Deborah Harkness
Deep in the stacks of Oxford's Bodleian Library, young scholar Diana Bishop unwittingly calls up a bewitched alchemical manuscript in the course of her research. Descended from an old and distinguished line of witches, Diana wants nothing to do with sorcery; so after a furtive glance and a few notes, she banishes the book to the stacks. But her discovery sets a fantastical underworld stirring, and a horde of daemons, witches, and vampires soon descends upon the library. Diana has stumbled upon a coveted treasure lost for centuries-and she is the only creature who can break its spell.
This book is on my October TBR because I have heard so many things about it… have you read it yet?
---
Honorable Mention to the Hocus Pocus Sequel, which I am reading later this month!
Hocus Pocus is beloved by Halloween enthusiasts all over the world. Diving once more into the world of witches, this electrifying two-part young adult novel, released on the twenty-fifth anniversary of the 1993 film, marks a new era of Hocus Pocus. Fans will be spellbound by a fresh retelling of the original film, followed by the all-new sequel that continues the story with the next generation of Salem teens.

Shortly after moving from California to Salem, Massachusetts, Max Dennison finds himself in hot water when he accidentally releases a coven of witches, the Sanderson sisters, from the afterlife. Max, his sister, and his new friends (human and otherwise) must find a way to stop the witches from carrying out their evil plan and remaining on earth to torment Salem for all eternity.

Twenty-five years later, Max and Allison's seventeen-year-old daughter, Poppy, finds herself face-to-face with the Sanderson sisters in all their sinister glory. When Halloween celebrations don't quite go as planned, it's a race against time as Poppy and her friends fight to save her family and all of Salem from the witches' latest death-defying scheme.
---
Which books about witches are among your favorite?! I'd love your recommendations!
---