(Last Updated On: June 19, 2019)
Happy holidays, friends! It's a miracle – I am doing a tag post within 9 days of the first tag, who am I?! Don't get too excited, this hoarder of tags still has plenty in the queue and I doubt I will be changing my hoarder ways anytime soon.
Thank you to Meeghan, Heather, and Melanie for tagging me for the Bookish Naughty or Nice tag! Spoiler alert: I am naughty as heck. You've been warned.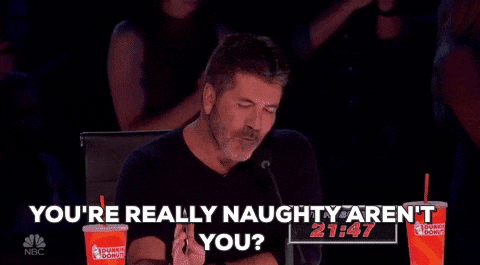 Rules
Tag and link the person who tagged you
Tag and link me (the creator) if you would be so kind, I love reading your answers –   Jenn
Tick/cross off the ones you've done
Tag another 10 people (I couldn't find 10 people who hadn't done this… but I tried!)
The Questions
1. Received an ARC and not reviewed it.
Not intentionally, but I do have a few ARCs that I accepted or requested this year that I haven't gotten around to reading yet. 😞

Foundryside (Founders #1) by Robert Jackson Bennett
Through the Hostage (Cortii #1) by J.C. Steel
Once Upon a River by Diane Setterfield
A Murder of Crows (The Ravenscourt Tragedies #1) by Annie Kirke
Anna Undreaming (The Metiks Fade Trilogy #1) by Thomas Welsh
Caleb's Window by John J. Siefring
God's Forsaken (The Guilty Ones # 1) by David Brevik
Happily by Chauncey Rogers
I am going to be tackling as many of these as possible during Destiny's Late-a-thon in January, though! I am hoping to be able to start 2019 with a mostly clean slate!
2. Have less than 60% feedback rating on NetGalley.
Nope, I am currently at 89% and haven't dipped under 80% since June.
3. Rated a book on Goodreads and promised a full review was to come on your blog (and never did).
Guilty as charged, currently Illuminae is sitting there with a 5-star rating and "holy crap, RTC" review. I will get to it eventually, though.
4. Folded down the page of a book.
Yes and honestly I don't consider this to be a naughty behavior at all. It's my book and I can dog-ear the pages if I want to!
5. Accidentally spilled on a book.
Not that I can remember, no. But some of my books did receive water damage when pipes burst in the apartment next door and flooded my bedroom with like 2 inches of water several years ago.
6. DNF a book this year.
Absolutely, so far I have DNF'd five books. I am working really hard to stop feeling guilty for putting down books that I am not enjoying.
7. Bought a book purely because it was pretty with no intention of reading it.
I don't think so? I am guilty of only looking at a book because of its cover but I only buy books that I have an interest in reading.
8. Read whilst you were meant to be doing something else (like homework).
Hahahahaa, I was reading a book at work the other day.
9. Skim read a book.
No shame! I don't skim full books anymore (I used to while in university because that's the only way to be able to finish all the reading), but I do skim scenes that bore me while reading.
10. Completely missed your Goodreads goal.
Nope, I actually raised my goal a few times this year because my reading far surpassed my expectations!
11. Borrowed a book and not returned it.
No, never. I hate it when people do that to me.
12. Broke a book buying ban.
Yes, this month even. They don't work and I need a better system.
13. Started a review, left it for ages then forgot what the book was about.
Yes but mainly because "ages" for me literally can be five days. This is why I try to write my reviews after I finish the book and before starting a new one. Thankfully I take notes though, which helps immensely.
14. Wrote in a book you were reading.
Yup! In pen, too~! I also don't consider this naughty… it's my book and I enjoy re-reading books and seeing what I thought on prior reads.
15. Finished a book and not added it to your Goodreads.
No way, all those pages need to be counted for my Goodreads Challenge!
16. Borrowed a book and not returned it to a friend.
Didn't I already answer this question? No.
17. Dodged someone asking if they can borrow a book.
I flat out say no now. Too many people kept my books for me to want to bother.
18. Broke the spine of someone else's book.
Who the heck does this? No.
19. Took the jacket off a book to protect it and ended up making it more damaged.
I do this but haven't damaged my jacket as a result.
20. Sat on a book accidentally.
Probably, I don't tend to look before sitting.
Results 10/20 aka

only

50% naughty!
Tagging
Bookish Tiffany  | Isabelle @ Bookwyrm Bites  |  Nerd Narration  |  Books and Blends  | Laughing Listener  |  Way Too Fantasy  |  Bookdragons 24/7  |
Bookwyrming Thoughts  |  Reader Attic  |  Becca Leigh Anne  | Howling Libraries
---