(Last Updated On: June 19, 2019)
HAPPY HALLOWEEN, ghouls! 👻 🎃 🧛
Today's the last day of Blogoween and to celebrate I am doing a fantastic prompt from Clo @ Book Dragons! You can find her prompt post here. I have had so much fun this month celebrating all things spooky & scary with you all! I hope you have a safe & haunting Halloween if you celebrate full of nothing but treats!
---
Today's Blogoween Prompt
Prompt Title:  Halloween in a Fictional World
Explanation: Pick any fictional world that you'd love to experience Halloween in.
---
Halloween in Sunnydale
It goes without saying that I absolutely love Buffy the Vampire Slayer and the Buffyverse, so it should come as a surprise to no one that the first fictional world that came to mind was Sunnydale!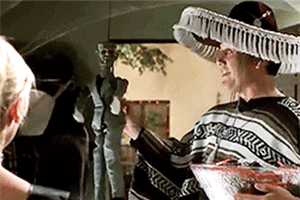 It's true that for our Scoobies every day is a little bit like Halloween with the Hellmouth, vampires, and Big Bads always wreaking havoc. Sure, my desire to live in Sunnydale is probably informed a bit by my 17-plus year obsession with Spike (oh god I am having an existential crisis, season 7 premiered 15 years ago). But also the Halloween episodes are among my absolute favorite. So let's rank the Halloween episodes in terms of which ones I would want to experience, shall we?
"Fear Itself" (Season 4, Episode): This is one of my all-time favorite episodes of the entire series. It's their first college party, but turns out the fraternity turned to the occult for decoration inspiration and the house begins to manifest everyone's greatest fears. It's an excellent episode that talks about those fears we all have about facing the unknown and has some hilarious moments.

"Halloween" (Season 2, Episode 6): Honestly I feel like I am going to be slaughtered for not ranking this as number 1 on my list, because honestly who wouldn't want to spend Halloween in a world where you become your costume?! It is one of the most imaginative plots and something I think would be cool to experience, but I just want to be spooked, okay!? Send me to a haunted house that legit knows my fears! But I digress. This episode is fantastic and I enjoy the theme of trying to be someone you think someone else wants only to find out that they like you just the way you are. Awwww….

"All the Way" (Season 6, Episode 6): I'll be honest and say that I am not a big fan of this episode mainly because I am not a fan of Dawn (although during my recent re-watch I started to feel a little for her after Xander talks to her at the end of "Potential"). However, I do like the whole urban legend kind of component with the old guy, and Xander talking like a pirate is just plain old enjoyable.

So there you have it… I would rather be terrified by a sentient house than turn into something awesome based on my costume. Knowing my luck, I would wind up like Willow did anyways…
I hope that you have a safe and fun Halloween if you celebrate, and a fantastic Wednesday if you don't! May your day be full of spooky tales and laughter.
I like the cut of your jib, reader. Did you dress up for Halloween? I did and happily sitting at work in my flapper costume with a bowl of candy (if anyone bookish asks, it's Great Gatsby inspired). For the last 2 hours of the workday our colleagues will bring in their kids to Trick or Treat around the office, and that is just adorable. Best day of the year, folks.
---
Which fictional world would you want to spend Halloween in? If you are a Buffy fan, what do you think of my ranking of Halloween episodes?
---