(Last Updated On: July 8, 2021)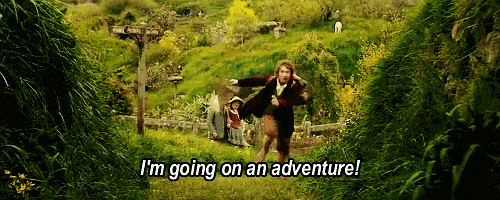 The Adventure Log is my monthly wrap-up post!
We're already one month into 2021, which truly proves that the older you get the faster time flies. Dislike.
Let's look at what I read and reflect on how I'm doing with my 2021 goals! (It feels weird to wrap-up a month where I read under 200 pages, but such is the Pandemic Life.) Let's get this January in Review started…
Books I Read
January began with so much energy, but the Pandemic Reading Slump reared its ugly head pretty early in the month.
Achieve Your Goals With Quests by Morgan Addison
The start of a new year is a fantastic time to assess your life and create goals, which is why I jumped at the chance to read this one when the author emailed me. This is a quick and accessible read with the goal to really reframe your mental attitude.
This book is a good Kindle Unlimited read.
---
The Route of Ice and Salt by José Luis Zárate
Translated by David Bowles and published in English for the first time, this is Gothic horror at its finest. Full of nightmare fuel and a slow-paced descent into a blurred reality, I highly recommend this novella to fans of the Gothic horror genre!
My spoiler-free review will be posted on February 27!
Reading Statistics
Charts, charts charts! I love data and want to highlight some reading statistics (get these charts for yourself with the 2021 Reading Spreadsheet Template) each month.
Of course, it looks weird this month because I read literally two books in January but YOLO.
---
ARC Mountain
The Reader Voracious ARC Mountain is back! My attempt at an ARC ban last year kind of failed, but this year I do want to keep track of my ARC obligations a bit better.
I've already been significantly better holding the Request/Accept Monster at bay for the past few months (not reading at all will do that to you), but the above chart doesn't include pre-2021 releases for my sanity. My goal for the year is to keep up with 2021 and read backlisted ARCs as I'm able to.
January Book Haul
I don't separate haul posts every month anymore, but many of you enjoy them so I include them in my wrap-ups! Please remember your worth as a reader or blogger is not dependent on the number of books you own or receive.
I didn't buy any new books in January (just pre-orders for later this year).
---
New ARC Arrivals
It is a truth universally acknowledged that the less I read, the more books will find their way to me. I'm truly blessed and so thankful that publishers send me books* to read and review but admit I feel pretty guilty that I've read less than 160 pages in the past two months.
* In the coming months, I hope to bring Flapping Pages out of hiatus and pass along some of the books I receive. Be sure to sign up for the mailing list to be notified when the program regains its wings!
---
Publisher: Titan Books | Publication Date: November 10, 2020
Pages: 384 | Age Range: Adult | Genre: Mystery
New York Times bestselling author James Lovegrove's continues the story of Sherlock Holmes and The Hound of the Baskervilles, as five years later, another monstrous creature stalks across Dartmoor…
1894. The monstrous Hound of the Baskervilles has been dead for five years, along with its no less monstrous owner, the naturalist Jack Stapleton. Sir Henry Baskerville is living contentedly at Baskerville Hall with his new wife Audrey and their three-year-old son Harry.
Until, that is, Audrey's lifeless body is found on the moors, drained of blood. It would appear some fiendish creature is once more at large on Dartmoor and has, like its predecessor, targeted the unfortunate Baskerville family.
Sherlock Holmes and Dr Watson are summoned to Sir Henry's aid, and our heroes must face a marauding beast that is the very stuff of nightmares. It seems that Stapleton may not have perished in the Great Grimpen Mire after all, as Holmes believed, and is hell-bent on revenge…
---
Publisher: Roaring Book Press | Publication Date: December 1, 2020
Pages: 336 | Age Range: Middle Grade | Genre: Fantasy
Real life and fairy tales collide in Never After: The Thirteenth Fairy, book one in the new middle-grade Never After series from the #1 New York Times bestselling author of The Descendants series, Melissa de la Cruz.
Nothing ever happens in Filomena Jefferson-Cho's sleepy little suburban town of North Pasadena. The sun shines every day, the grass is always a perfect green, and while her progressive school swears there's no such thing as bullying, she still feels bummed out. But one day, when Filomena is walking home on her own, something strange happens.
Filomena is being followed by Jack Stalker, one of the heroes in the Thirteenth Fairy, a series of books she loves about a brave girl and her ragtag group of friends who save their world from an evil enchantress. She must be dreaming, or still reading a book. But Jack is insistent–he's real, the stories are real, and Filomena must come with him at once!
Soon, Filomena is thrust into the world of evil fairies and beautiful princesses, sorcerers and slayers, where an evil queen drives her ruthless armies to destroy what is left of the Fairy tribes. To save herself and the kingdom of Westphalia, Filomena must find the truth behind the fairytales and set the world back to rights before the cycle of sleep and destruction begins once more.
---
Publisher: Titan Books | Publication Date: January 19, 2021
Pages: 417 | Age Range: Adult | Genre: Fantasy
An epic fantasy featuring warrior priestesses and fickle gods at war
Hessa is an Eangi: a warrior priestess of the Goddess of War, with the power to turn an enemy's bones to dust with a scream. Banished for disobeying her goddess's command to murder a traveller, she prays for forgiveness alone on a mountainside.
While she is gone, raiders raze her village and obliterate the Eangi priesthood. Grieving and alone, Hessa – the last Eangi – must find the traveller, atone for her weakness and secure her place with her loved ones in the High Halls. As clans from the north and legionaries from the south tear through her homeland, slaughtering everyone in their path, Hessa strives to win back her goddess' favour.
Beset by zealot soldiers, deceitful gods, and newly-awakened demons at every turn, Hessa burns her path towards redemption and revenge. But her journey reveals a harrowing truth: the gods are dying and the High Halls of the afterlife are fading. Soon Hessa's trust in her goddess weakens with every unheeded prayer.
Thrust into a battle between the gods of the Old World and the New, Hessa realizes there is far more on the line than securing a life beyond her own death. Bigger, older powers slumber beneath the surface of her world. And they're about to wake up.
---
Publisher: Farrar, Straus, & Giroux | Publication Date: February 2, 2021
Pages: 400 | Age Range: Young Adult | Genre: Horror
Rose Szabo's thrilling debut What Big Teeth is a dark, gothic fantasy YA novel about a teen girl who returns home to her strange, wild family after years of estrangement, perfect for fans of Wilder Girls…

Eleanor Zarrin has been distanced from her wild family for years. When she returns home after a violent incident at boarding school, trying to fit back into the space she left is harder than she thought. Eleanor is left to fend for herself within her family of monsters. But when a mysterious figure arrives at their family estate, she must find a way to overcome the monster invading her home or risk becoming a monster herself.
Exquisitely terrifying, beautiful, and savage, What Big Teeth is a genre-defying story from an exciting new literary voice.
---
Publisher: Thomas & Mercer | Publication Date: April 1, 2021
Pages: 304 | Age Range: Adult | Genre: Thriller
A novel about secrets and revenge by the number one Amazon Charts bestselling author of The Missing Sister. It's only by confronting who she was then that she can understand who she is now.
I was born in captivity…
Two decades ago Marissa Mo escaped a basement prison—the only home she'd ever known. At twenty-seven, Marissa's moved beyond the trauma and is working under a new name as a freelance photographer. But when she accepts a job covering a string of macabre murders in Portland, it's impossible for Marissa not to remember.
Everything is eerily familiar. The same underground lairs. Sad trinkets and toys left behind, identical to those Marissa had as a child. And then there is the note meant just for her that freezes Marissa's blood: See you soon, Missy.
To determine the killer's next move, Marissa must retrieve her long-forgotten memories and return to a past she's hidden away. But she won't be facing her fears alone. Someone is waiting for her in the dark.
2021 Goals Check-in
⛰️ decreased post frequency: considering there were three posts in January, technically this is a win? But that's not really what I meant.
⛰️ keep up with comments: I let them pile up for a month again, oops.
⛰️ incorporating hiking/outdoors content: I have plans but have yet to get outdoors.
⛰️ new series: books & beverages is in the works, but due to my unplanned break in January the winter post may be pushed to December.
⛰️ revive reading around the globe guest post series: currently seeking interviewees.
Personal Update
Every day bleeds into the next. I just stay at home and do my best to exist, hoping that the population will follow guidelines so we can have some sense of normalcy. It's really tiring and disheartening, but I'm not the only one experiencing this.
My birthday came and gone, which I celebrated with my adorable kitty at home. I wasn't able to spend the day with my family as planned because my stepmom had shoulder replacement surgery on the 26th and was in strict quarantine leading up to it. But they sent me a yummy cake, so that's fine.
We don't get a lot of ~weather~ here in Southern California, but we've gotten a few rainstorms already this year! I love the rain and wish we had more of it here as there's no better sound than rain tapping on my windows. Yes, all I have to talk about is the weather. LOL.
Let's Chat!
What did you read January? Any exciting books?
How have you been celebrating events in the pandemic times?
---