(Last Updated On: June 19, 2019)
Friends, I like going on adventures a lot. Whether it's traveling to another country or curling up with my favorite fantasy book, I love experiencing new things. This is why I am such a fan of stories that involve an epic adventure, and precisely when I love this tag so much that I had to ignore the hoard to do it. *whispers* Soon
Thank you so much Siobhan @ Siobhan's Novelties for tagging me (only two weeks ago! are you proud of me for not hoarding it with all the others?!) because this is the best tag for me. After you are done reading this post, be sure to check out Siobhan's blog because she's lovely and you need her content in your life.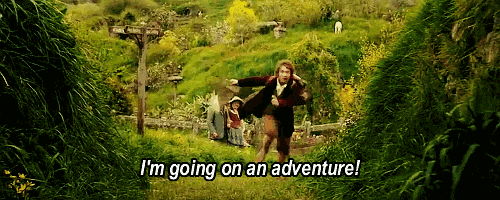 Rules:
Imagine that you are an intrepid literary adventurer- braving the harsh bookish wilderness, traversing jungles of pages and slashing through vines of words. Where in the vast world of books would you go?
Write about one place mentioned in a book you wish you could visit and why.
List 3-5 things that you would do there.
Mention which souvenirs, if any, you would bring back with you.
Then tag some more literary explorers and please link back to the creator (Umairah @ Sereadipity) so they can see all of your adventures!
My dream bookish destination
I have been toiling over this answer for days, torn between Wonderland and the world of Caraval. I've always been enchanted by Wonderland and would love the opportunity to go to the Hatter's tea party, but considering how dangerous Wonderland is… the clear answer is Caraval!
Caraval is magical and whimsical, a place where magic comes alive for but a few days. While there is danger in the game, it is nothing like going toe to toe with the Queen of Hearts!
Things I would do
Remember, it's only a game!
I would definitely want to be a participant in the game if for no reason other than I am incredibly competitive and love to win. I'd honestly want to explore everything: the shops and vendors, the magical locations, and just being outside under the stars.
But most definitely I'd find all the clues so that I can win.
Souvenirs
I'd really like to get a tattoo while I am there! For one thing, it feels like a bad idea to take something from Caraval but for another reason, I need more tattoos. I adore Dante and his tattoos, and I want more on my body.
Tagging
Michelle  |  Sam  |  Jamsu  |  Bex  |  Cassie  |  & you if you want!
---