(Last Updated On: July 8, 2021)
Spooky Season may have come and gone, but ya girl embraces spooky 24/7! My month was a little intense with a reading slump that just won't quit, relocating 600 miles (more about that in the personal update), and trying to find the energy to spend time with family and friends.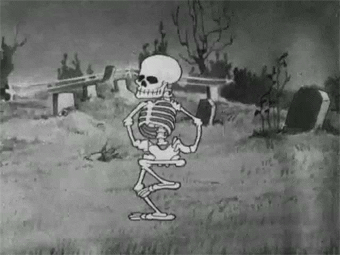 I watched a lot of slasher flicks as is my tradition for the month, as well as Hocus Pocus. My reading slump is really weird because I've been enjoying the books I am reading but just don't have the desire to read. I'm working to accept that though.
I did manage to get some reading done… and actually cleared my current reading shelf on Goodreads, which at one point last month had six books on it and gave me literal anxiety.
---
Reading
I read a total of 2,269 pages across 6 books in October. I am still struggling with reading but I am doing better with reading at least a little bit every day. Sure, some days it was 6 pages, but better than nothing!!!
Let's not talk about the fact that I haven't written a review for any of the books I read in October. I am gaining quite the backlog of review to comes, but honestly I've been in a creative rut the past few weeks and just not feeling it.
✨ As a quick reminder, I've done away with star ratings on my blog reviews. You can read more about my reasoning in this discussion post on ratings systems, but you can find my ratings on Goodreads!
My Favorite Reads of October



Gravemaidens is one of my Novel19 class this year, and after spending much of the year getting to know the author the hype in my brain was strong. But this one absolutely lived up to the hype for me!

First in a duology, this is a touching story of love and sacrifice. With one of the most iconic ride or die friendships with Iltani.

I laughed. I cried. Sometimes at the same time. I recommend this one to fans who love fiercely feminist characters, tough sibling relationships, and a respectful not-so-love love interest.

📖  Full ARC Review to Come

✨✨✨

---

The Beautiful by Renee Adieh had me entirely in its thrall for much of the month! This was probably my most highly anticipated release this year – I read the first 47 pages back in June and basically frothed at the mouth for the following 4 months trying to get a full ARC of the book.

Alas, an ARC wasn't in the cards for me but I pre-ordered a copy from my local indie and was fortunate enough to attend an event during release week (would you want to see a post about it?).

I literally took 21 days to read the book because I was savoring every word. I was swept away by Adieh's lush descriptions and fell in love with Celine and Bastien. Their chemistry oozes off of the page. I need The Damned in my hands immediately.

📖  Full Review to Come
All October Reads
ARCs/copies from author or publisher are noted below by an asterisk *
The Bone Houses by Emily Lloyd-Jones – I received this book in my Owlcrate in September, and buddy read it with Loretta and Siobhan. This was such an enjoyable, fast-paced read! It feels like an old fashioned fairy tale written by the Brothers Grimm, with some incredibly precious sibling relationships. Let it be known that I will die for that Goat.  | 📖 Full review to come
The Haunting of Hill House by Shirley Jackson – this was also included in the October Owlcrate, so I finally was able to read this iconic horror novel! It wasn't quite what I was expecting, but my goodness does Jackson have a way with words and atmosphere. I do think this might lend better to film, and I am excited to finally watch the Netflix series soon.  | 📖 Full review to come
* Darkdawn (Nevernight Chronicle #3) by Jay Kristoff – I started reading this book in September when it was released… and it took me 47 days to finish. I think this was in large part to my burnout with fantasy, but I've also realized that I struggle with the pacing of adult fantasy in general. I liked it, but am still not sure how I feel about that ending.   | 📖 Full ARC review to come
* The Light at the Bottom of the World (The Light at the Bottom of the World #1) by London Shah – I've always been fascinated with the ocean, and when I found out about this YA fantasy debut I was stoked! This was a buddy read with Shealea, and the book is delightfully atmospheric and the worldbuilding is so well done, but I did struggle with connecting with the main character Leyla. This isn't a bad thing: I am 18 years older than her and her voice reads very true to her age. The atmosphere more than made up for it for me, and I look forward to the rest of the duology!  | 📖 Full ARC review to come
Did Not Finish

These are the books that I started in September but gave up on. Other than this, I finished all of the books I started in October!
October Statistics
Total Books Read: 6 | Total Pages Read: 2,669
Total Books Read in 2019: 74
Goodreads Reading Goal: 52 🎉
---
ARC Mountain Update



I recently put myself on an ARC Ban (as of July 12, 2019), and back in July I wrote a post about the ban to hold me accountable, and I'm reporting on the mountain each month.
How am I doing? lololol but at least it's just 2020 ARCs so 🙃
Current 2019 (& older) ARC Total: 23 (-3)
Finished in October: 3 (Darkdawn, Gravemaidens, The Light at the Bottom of the World)
Reviews to Write: 3 (Darkdawn, Gravemaidens, The Light at the Bottom of the World)

---
Awesome Community Posts
Friends, I am doing a lot better with blog hopping and it makes me feel so accomplished! Seriously, my mojo of daily hopping was lost in February and never came back. I am still not up to daily but I will take anything other than once a month.
Here are some fantastic October posts that I enjoyed reading and you need to check out!
---
Personal & Blog Update

In addition to October being dedicated to all things spooky, it was also a month of transition for me personally. I've been on an extended leave of absence from work since March of this year for medical reasons, and on October 14th I was medically separated from my job. This means I am permanently on disability until doctor's deem me fit to return to the workforce, but when I do it will be with someplace new.
This is bittersweet. The past seven years of my life were filled with the highest of highs and the literal lowest of lows. I learned a lot and grew in my career, and am thankful for the time I spent in Northern California.
I made the decision to move back home to San Diego once I was told medical separation was imminent. I wanted to be close to my friends and family, and without my job there was nothing holding me back from doing so. I'm settling into my new apartment and really excited for a fresh start and having the time to heal without the expectation from work of my return hanging over me (I had a LOT of guilt about needing so much time).
---
Thank you

Thank you, everyone, so much for visiting, liking, commenting, and sharing your bookish thoughts with me last month! I hope that you had a fantastic October, let me know how your month went in the comments below!
Let's go on another adventure together!