(Last Updated On: July 8, 2021)
Well, March has been a wild month hasn't it? My only solace is that I am not alone in my struggle. So many people around the world are experiencing the same fears and restrictions. I sincerely hope everyone is safe and healthy.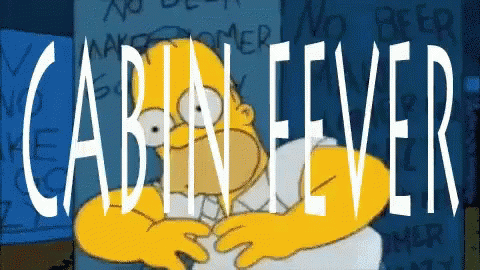 My month was largely a wash because I struggle to focus when my anxiety is ramped so high, but let's chat about the media I consumed in March.
Reading
The state of the world doesn't really lend itself to reading for me. I managed to read 4 books (1 was a re-read) and a novella last month, which honestly is more than I thought I read lol.
My Favorite Read of March



The Electric Heir by Victoria Lee is hands-down amazing, friends. The Fever King was one of my favorite books of 2019, so I was anxious to see where the story for Noam and Dara would go.

I cried. A lot.

It's been weeks and I haven't found the words to even attempt writing a review yet, which is a shame because the Feverwake duology is brilliant and worth the read. It's a little difficult given the times we are currently living in as it deals with a magical plague pandemic, but the characters' journeys is something special. And I love the hope inherent in dystopian fiction, which is refreshing in today's times.

ARC Review to Come
All

March

Reads
ARCs/copies from author or publisher are noted below by an asterisk *
Memento (Illuminae Files #0.5) by Amie Kaufman and Jay Kristoff – After not reading a single page for two weeks, I decided to dive back into a series I love so much and finally read my copy of Memento. I enjoyed this 82-page jaunt set before the attack on Kerenza II and was just the kind of thing I needed to wipe the cobwebs for a bit.
I Am Still Alive by Kate Alice Marshall – the author is on my insta-buy list ever since I read Rules for Vanishing, so I grabbed her debut powerful story of survival. Reading this one had me on the edge of my seat and fully invested. | 📖 Review
My Lady's Choosing: An Interactive Romance Novel by Kitty Curran and Larissa Zageris – the slump came back so I decided to try this book my friend loaned me. It's a book that is as much satire about historical romance tropes than it is romance, and I enjoyed following all of the options. Mac the Scotsman is the best romance option, and no one can convince me otherwise. | 📖 Review
The Fever King (Feverwake #1) by Victoria Lee – (re-read) Just as amazing and heartbreaking as the first time. | 📖 Review
Did Not Finish

I've recommitted myself to setting aside books that I don't enjoy for 2020, and it is especially liberating! Forcing a book that I don't like and have no interest in seeing how it resolves doesn't do the author any favors considering I am setting myself up for a negative review and a potential slump to boot.
Life's too short to dwell on books that aren't for me: none!
March Statistics
Total Books Read: 5 | Total Pages Read: 1,604
Total Books Read in 2020: 21
Goodreads Reading Goal: 52
ARC Mountain Update



I put myself on an ARC Ban on July 12, 2019. Back in July I wrote a post about the ban to hold me accountable, and I'm reporting on the mountain each month.
Pre-2020 ARCs: 16 (read 0)
2020 ARCs: 19 (read 1, 0 hauled)
ARC Reviews to Write: 3 (Diamond City, All the Stars and Teeth, The Electric Heir)

I've joined Destiny @ Howling Libraries' #ARCApocalypse readathon and you can expect a more detailed TBR of my ARCs at some point.
Blog & Personal Update



I haven't left my apartment for more than a doctor's appointment since [consults calendar] February 29th. I came down with the worst flu of my life on March 2nd, which 10 days later morphed into strep throat. By the time I was no longer sick, California was under Stay at Home orders.
Like a lot of people, my depression and anxiety are not handling things well but I am doing my best.I am horridly behind on my comments as always, and I hope to get caught up soon. My only goal for April is to write some overdue reviews since I haven't been reading.
I love this game so much #AnimalCrossing #ACNH #NintendoSwitch pic.twitter.com/yo5dil2qEw

— Kal @ Reader Voracious (@kalventure) March 20, 2020
Last month, I watched a lot of TV: Reign, Scream the TV Series, Love is Blind. And some Animal Crossing New Horizons, even though I haven't touched it for a couple of weeks.
Thank you, everyone, so much for visiting, liking, commenting, and sharing your bookish thoughts with me last month! I look forward to catching up with you all as I'm able to do so — feel free to poke me on Twitter anytime as I kind of live there when I have energy.
How was March for you? What were your favorite reads of the month & what's your favorite post from the month that you want me to check out? Drop in the comments to let me know!
Let's go on another /adventure together!