(Last Updated On: July 8, 2021)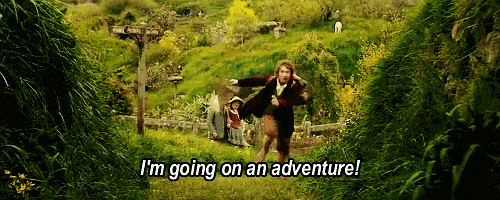 The Adventure Log is my monthly wrap-up post!
Did October come and go like a fever dream for anyone else? Like how is it time for another month in review? I am so disappointed because I feel like I didn't get to experience Spooky Season to its fullest potential.
The weather is finally beginning to cool a bit here in Southern California though, and the last week of October finally felt like Fall. It's a shame that palm trees don't change leaves, though!
But with a new month, it's time to wrap-up everything October! My post format has changed a bit this month, so read on to hear all about what I read and hauled, and much more!
2020 Bookish Jazz Awards are here!
In case you missed the launch of the second annual Bookish Jazz Awards on November 1st, I wanted to let you know that today is the last day to submit nominations for the voting round!
Unlike other awards, The Jazzies have separate genre categories for Young Adult and Adult fiction! Any book published between November 1, 2019 and October 31, 2020 is eligible, so be sure that your faves get recognized!
Personal Update
Honestly? October was much of the same for me. California and my county have essentially been in lockdown since March. As soon as restrictions are loosened, cases always spike because people don't know how to behave… and I am Tired.
I've been struggling to focus on reading again, but playing Town of Salem with friends is a blessing!
Last month I was back on my Lady Gaga bullshit, and this month… apparently I like Miley Cyrus now? Her performance for SOSFest showed up on my recommended and… my GOODNESS is her voice suited for rock! Her cover of Zombie by The Cranberries is one of the best things to grace my ears and Edge of Midnight (Midnight Sky & Edge of Seventeen remix) with Stevie Nicks solidified my new adoration.
Books I Read
I experienced this brief respite from the Reading Slump of Doom, and goodness did it feel amazing while it lasted!
None Shall Sleep by Ellie Marney
This book is great with Silence of the Lambs and Criminal Minds vibes set in the 1980s. It's been over a month and I can't stop thinking about it; hands-down one of my favorite books of 2020!
✨✨✨
Hope on a Tightrope: Words of Wisdom by Cornel West
A quick read that is easily digestible, Hope on a Tightrope was published in 2008 before Barack Obama won the election. Unlike Democracy Matters or his other works, this collection is more of a free-flowing and loosely-themed quotes that kind of serves as a tasting platter of his philosophies. It reads like you are listening to Cornel West speak. Covering a wide range of topics including courage, identity & race, faith, music, and freedom, he unifies these topics through the lens of hope and its differentiation from optimism.
✨✨✨
The Girl from the Well by Rin Chupeco
📖 Review
Well that was a feast of nightmare fuel reminiscent of J-horror films. Perfectly horrifying read for October, and I can't wait to read the second book The Suffering!

Dark and Deepest Red by Anna-Marie McLemore
📖 Review
This book swept me away with its lush prose and nestled its way into my heart. Where it will undoubtedly live for some time. Dark and Deepest Red is a story about hiding from who society thinks you are and taking ownership of it.
✨✨✨
The Only Good Indians by Stephan Graham Jones

I'm always here for decisions of the past coming back to haunt you and stories of revenge. The Only Good Indians is a haunting story of cultural identity and revenge. I'll be honest that I wasn't sure how I was going to feel about the book but found myself gripped the further I read.
✨✨✨
These Deathless Bones by Cassandra Khaw

You can read These Deathless Bones for free on Tor here!
WOW. This is an amazing read and one I highly recommend! The descriptive language activates all of your senses, which is a feat for such a short and tightly-wound story. Probably one of the best horror short stories I've read and I wish it were a full-length novel.
Books I Hauled
I've decided to stop posting separate haul posts every month, but I know many of you enjoy seeing the books I pick up each month. Click on the book title to be taken to the Goodreads page.
Edgar Allan Poe: Tales of Terror and Madness

Do I already own two Complete Works? Yes. Do I own a couple random collections? Also yes. But I couldn't resist nabbing this when I grabbed the other two Retro Classics editions~
✨✨✨
Chilling Ghost Stories edited by Stefan Dziemianowicz
I am a sucker for collections of stories, and I really like these retro classics collections that B&N had on sale for $5 each.
✨✨✨
Strange Tales: Spine-Tingling Stories edited by Stefan Dziemianowicz

The third retro classic book I nabbed on a whim because I have No Control.
The Turn of the Screw by Henry James

I have this irrational need to read books before watching their adaptations, so once I found out Bly Manor was based on this Gothic novel I had to pick up a Kindle copy.
✨✨✨
His Hideous Heart: 13 of Edgar Allan Poe's Most Unsettling Tales Reimagined edited by Dahlia Adler
Surprising absolutely no one, I also picked up the Poe reimagining anthology when the ebook was on sale! I plan on hosting a readalong for it in January to celebrate my birthday in my Poe Hoe fashion.
✨✨✨
Lightbringer (Empirium #3) by Claire Legrand
My dumb ass thought I preordered the book, and then turns out I didn't so I missed out on the cards but I hunted a copy down in the wild. One day I'll be ready for the pain.
How to be an Antiracist by Ibram XC. Kendi (free)
After a year of saving up, I was able to redeem my first hardcover from the Penguin Reader Rewards program! I'm excited to read this one soon.
✨✨✨
Slaughterhouse-Five, or the Children's Crusade adapted by Ryan North and illustrated by Albert Monteys (eARC)
The shriek that let loose from my mouth when I got an email saying the publisher granted my wish on Netgalley! This book is one of my all-time favorites and am excited it has a graphic novel adaptation.
✨✨✨
The Route of Ice and Salt by José Luis Zárate, translated by David Bowles (eARC)
"A reimagining of Dracula's voyage to England, filled with Gothic imagery and queer desire."
Suffice to say I am so excited to have been granted an eARC of this translation and am thankful Silvia Moreno-Garcia tweeted about it!
Read Voraciously Book Club Pick for November
Did you know that I run a Discord server dedicated to nerding out about all the things you're passionate about? It's a fun and lowkey place were we organize voice chats, games, and even group readalongs!
We'd love to have you join us in the server~
It's time to begin week 2's chapters for the GRAVEMAIDENS readalong!

There's still plenty of time to join in on the fun before WARMAIDENS comes out next month! @DramaHuman31 @BookishlyRuby

🦋 https://t.co/gYbtrVNW4q pic.twitter.com/s0RGYC3Nkq

— Kal @ Reader Voracious (@kalventure) November 10, 2020
Reader Voracious Posts
In case you missed it, here are all of my posts from October!
Posts Around the Blogosphere
I haven't blog hopped that much this past month, but I do have some amazing posts to share with you all that I'd highly recommend checking out!
Let's Chat!
What did you read & watch in October? Any exciting books?
Did you do anything fun for Halloween?

Let's go on another adventure together!